Pastor's Newsletter Article January 2022

John 1:1,10-18
1In the beginning was the Word, and the Word was with God, and the Word was God. 10 He was in the world, and the world came into being through him; yet the world did not know him. 11 He came to what was his own, and his own people did not accept him. 12 But to all who received him, who believed in his name, he gave power to become children of God, 13 who were born, not of blood or of the will of the flesh or of the will of man, but of God.
14 And the Word became flesh and lived among us, and we have seen his glory, the glory as of a father's only son, full of grace and truth. 15 (John testified to him and cried out, "This was he of whom I said, 'He who comes after me ranks ahead of me because he was before me.'") 16 From his fullness we have all received, grace upon grace. 17 The law indeed was given through Moses; grace and truth came through Jesus Christ. 18 No one has ever seen God. It is God the only Son, who is close to the Father's heart, who has made him known.
Happy New Year Little Cedar and Marshall Lutheran Churches!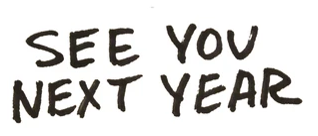 As I write this, we are nearing the New Year. As always, it is strange to write the next year's date. 2022. I can't believe it. Time is strange. One day it seems to be crawling by, and the next day you blink, and you don't know where it went to. We reflect on this last year and think about what we have accomplished. The victories and failures. The joys and the sorrows. We then also look forward to the new year with hope. 2022 is going to be the greatest year yet!
With the New Year, we also beginning our season of Epiphany. Epiphany is the celebration of Christ being revealed to the world. Above is one of our traditional Christmas readings. It is the Apostle John's witness to Jesus Christ. Christ wasn't just some distant deity drifting in a cloud above us. Instead, Christ walked amongst us. Jesus revealed to us the fullness of God. Full of grace and truth. And not just grace, but grace upon grace.
As our New Year begins, we certainly don't forget our past year, because it has made us who we are today. However, we can give ourselves some grace, because if God can give us grace, we most certainly can as well. Every morning we wake up with the promise of a new start of being made new in Christ. Daily we die with Christ in baptism, and daily we rise to life with him, not alone but together with all who bear Christ's name in the world. Every day is a chance to begin again!
Peace and blessings! Pr. Jeremy